Robinn Lange's MINDPOWER Memory is edutainment at it's best! Your students and faculty will witness an amazing transformation in this exciting presentation.

FACT: The Better Your Memory, The Better Your Grades

FACT: What You Don't Remember You May As Well Not Have Learned


Simply Put
Memory Is The Basis For All Learning!

The power and abilities of our own mind is the foundation of all of Robinn's MINDPOWER presentations.

MINDPOWER Memory has been specifically created for schools and student/faculty audiences. Memory is knowledge, and knowledge leads to success.


Let Your Students Take
THE MEMORY TEST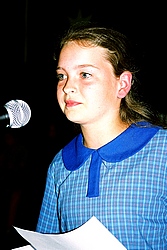 Your students will be truly amazed at their actual MINDPOWER Memory ability. The Memory Test is a test to showcase your students progress, ability and true memory potential. Watch as your students memory, retention and recall are greatly improved almost immediately by applying the ideas and concepts of this exciting presentation. This is a test your students will enjoy taking and requires no studying or advance preparation.


BONUS GUARANTEE
Your students will be able to learn a memory feat that they thought to be impossible just minutes earlier!
Robinn Lange's MINDPOWER Memory Program Also Includes

Complete Presentation Description and Outline
Robinn Lange Bio
Student Handout For Use During The Program
Performance Requirements & Technical Information
Sponsorship Information

Plus

A Teachers Program Handbook

Featuring

Pre-Program Exercises and Activities
Discussion Topics
Sample Questions To Ask During Q & A At The End of Program
Follow-Up Activities
Workshop Materials & Resources


Special Discount Offer
Robinn Lange's MINDPOWER Memory Programs and Workshops also includes Special School Discounted Pricing on Robinn Lange's book MINDPOWER Memory For Students.
Remember...
Bookings And Tour Dates Fill Quickly
So Reserve Your Date Today!